Memorial Day Event at American Legion Memorial Post 112 in Winter Park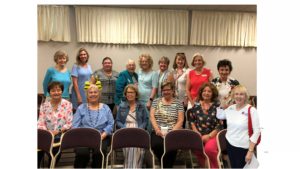 May 2021 meeting of Committee Chairs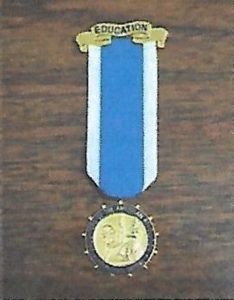 At the April 14, 2021 chapter meeting we will be honoring chapter member Barbara Walters-Phillips and we will be presenting her with the DAR Founders Medal — The Mary  Smith Lockwood Medal for Education.

William P. Duval chapter is happy to announce that we achieved the Silver Level honors in the American Spirit Magazine subscription contest!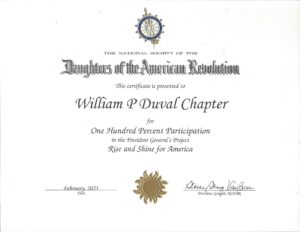 Regent Ann Maner was honored to receive the chapter's award certificate for 100% participation in the President General's Project from President General Denise VanBuren at State Conference on March 5. 

Patriots' Bench Dedication Ceremony, Winter Park
September, 2020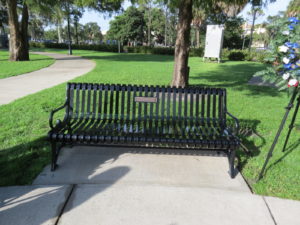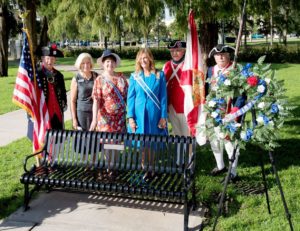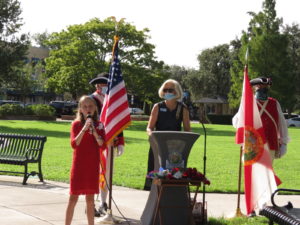 Click on link below to hear Elin Powell singing American the Beautiful: 

From September, 2020 thru May 2021 we Zoomed our meetings with members who did not attend in person. VIS Chair Elaine Powell was the Zoom Master. 

Our newest members Eve Koch, Virginia McCutchen, Candis Powell, and  Willis Middleton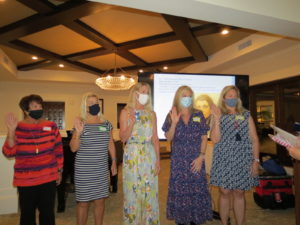 Friendship Luncheon with "Mae West" and "her mother Tilley."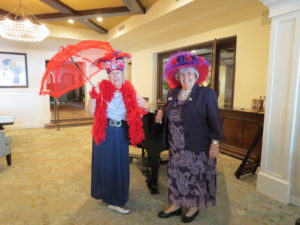 Our newest members, who were installed at our Oct. 14 meeting. From left to right: Suzanne Spitler Muchow, Vicki Blanchfield, Bette Blanchfield, Regent Ann Maner (center), Dr. Jewell Geddie, and Guinevere Grier.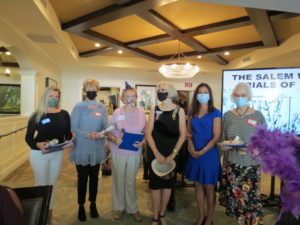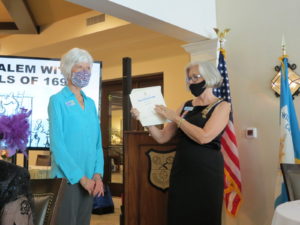 Lella Martin received a 20-year NSDAR Membership Certificate from Regent Ann Maner

We welcomed several new members in September, 2020 
Florida State Regent Kay Yarbrough installed new members Shari Lewis and Tiffany Lytle into our chapter in March 2020.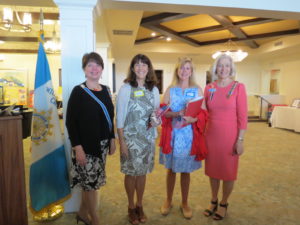 Melissa Mishoe and Linda Mease at FSSDAR Spring Conference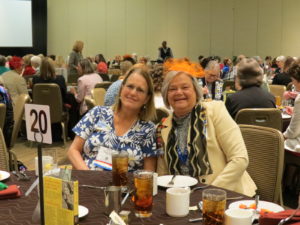 Leslie Beltz and Ann Maner enjoying the 2020 FSSDAR Spring Conference Sock Hop dinner. 

Chapter Members Commemorate Women's Suffrage at the 2020 FSSDAR Spring Conference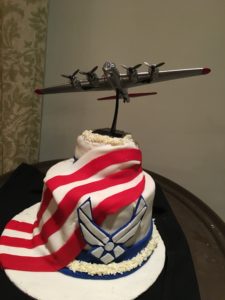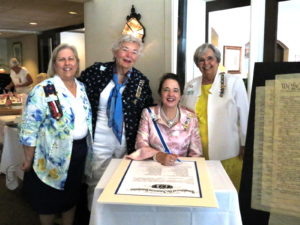 Florida State Regent Dawn Lemongello signs our charter and addresses our membership (Our original charter was lost.)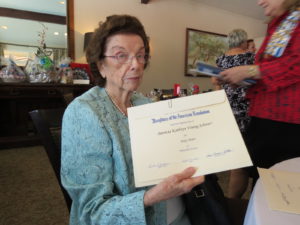 Pat Schnurr receives her 60th anniversary certificate.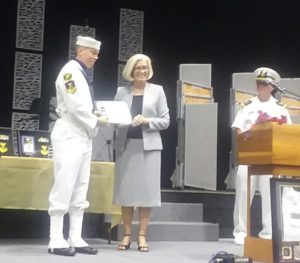 Ann Maner presents the last JrROTC medal of the 2019 school year.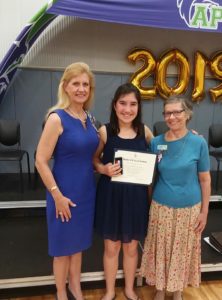 1st school Youth Citizenship Medal presented by Katie Campbell and Michele Mingoia.


Our Chapter 60th Anniversary Celebration — May 2017
WPD 1957 – 2017
Members and Guests at our 60th Anniversary Luncheon:
Our 60th anniversary celebration!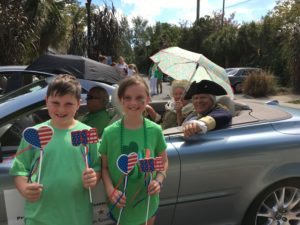 WPD Chapter Member Elaine Powell taught a class on Dating and Identifying Photos at the 2018 FSSDAR Fall Forum

Chapter booth at the Pine Castle Pioneer Days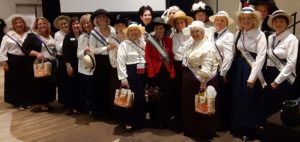 Chapter Members Commemorate Women's Suffrage at the 2020 FSSDAR Spring Conference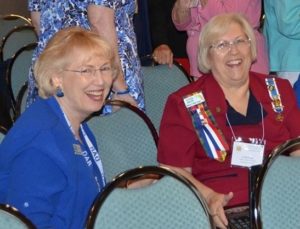 The content contained herein does not necessarily represent the position of the NSDAR. Hyperlinks to other sites are not the responsibility of the NSDAR, the state organizations, or individual DAR chapters.
For more information contact Regent Leslie Beltz.
For corrections, please contact webmaster Elaine Powell.
Updated May 12, 2021