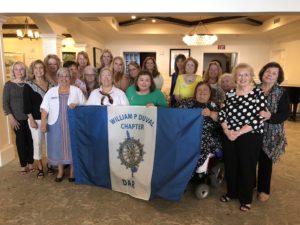 The William P. Duval chapter is part of the National Society Daughters of the American Revolution, which was founded in 1890 and is a non-profit, non-political, nonpartisan volunteer women's service organization, dedicated to promoting patriotism, preserving American history, and securing America's future through better education for America's children.
Our chapter was organized on May 13, 1957, and was named for William P. Duval (1784-1854), who served as the first Civilian Governor of Florida Territory, from 1822-1834.
Our chapter meets in Winter Park, Florida; however, our members live throughout the Central Florida area and beyond.
Our chapter members are college students, career women, mothers, grandmothers, and single women. We are Today's DAR! 
We hold chapter luncheon meetings on the second Wednesday of each month September through May. We also hold dinner meetings three times a year for those women who are unable to attend daytime meetings. 
Our chapter programs are diverse. We also participate in activities and have Friendship Luncheons three times a year so that our members and prospective members can get to know each other better.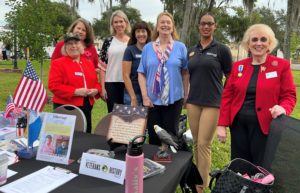 Our chapter conducts four classes that are open to the public at the Winter Park Library, including classes on:

Beginning Genealogy
DNA
How to Find Revolutionary War Patriots
Researching to find veteran burials, cleaning & reading tombstones, how to obtain veteran headstones
We also:

Conduct a Supplemental Application Workshop for DAR members at the Winter Park Library.
Award scholarships to outstanding graduating seniors from Winter Park High School and area high schools.
Support the DAR Schools.
Support veterans throughout the VA system, including Lake Baldwin VA Clinic.
Participate in Wreaths Across America at two Winter Park Cemeteries.
Participate in Community Events to promote patriotism and to foster awareness of the NSDAR.
Award National Defense medals in the Winter Park community that include, but are not limited to, Junior ROTC and ROTC cadets.
Have many active committees.
Are dedicated to the Objectives of the NSDAR, which are Historic Preservation, Patriotism, and Education.
Have many members who are dedicated genealogists who can help prospective members with finding a DAR Patriot. 
Want to know How To Join?
We invite you to contact the Regent for more information
William P. Duval Chapter, NSDAR, P.O. Box 1839, Winter Park, Florida 32790-1839
The theme of the NSDAR: 
Celebrate Stars & Stripes Forever and Rejoice in Our DAR Ties of Service and Friendship!
National Membership Information
Objectives of the DAR:
Historic Preservation, Education, Patriotism
The content contained herein does not necessarily represent the position of the NSDAR. Hyperlinks to other sites are not the responsibility of the NSDAR, the state organizations, or individual DAR chapters. For corrections, please contact webmaster.
Updated 7 August 2022